New Delhi: Union home minister Rajnath Singh today warned Pakistan against its nefarious activities for the first time, instead of condemning them.
Union Home Minister Rajnath Singh for the first time on the ongoing attacks on Pakistan's Napa border across the country says that the first shot will not be run by India, but if we are attacked, then we will not count the bullets. Rajnath Singh said this on the occasion of the 477th birth anniversary of Maharana Pratap, where he went to attend the unveiling ceremony of the statue of Maharana Pratap in Kharokada of Rajasthan, Pali. Instead of condemning the objection, he has warned Pakistan.
On the occasion of the unveiling ceremony of Maharana Pratap Murthy, Rajnath Singh said that the government has given an open rebate to the army to respond to Pakistan and the army is giving a reply to Pakistan. He further said in connection with Maharana Pratap, that historians did not do justice to him. In history, Akbar was called Akbar the Great, but in the case of Maharana Pratap the historians did not award the vocation of Great to him.
Rajnath said that it seems that the bravery and courage of Maharana Pratap were not properly evaluated. Historians should consider this once again. Rajnath further said that there was quite a similarity in the war of independence and Maharana Pratap of 1857. At the time of these two, the mood of the society was the same.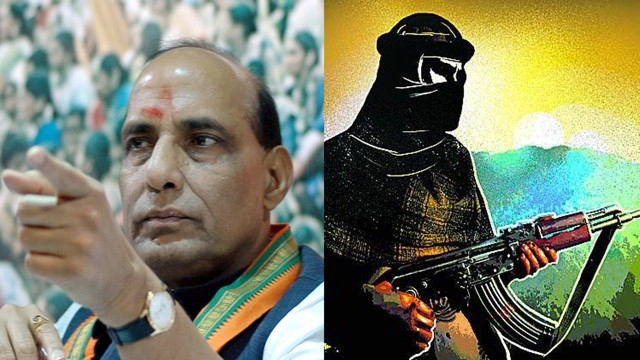 According to secret sources, Pakistani terrorists are once again scheming to attack Uri. After the news from the intelligence sources, the army has released high alert in Uri and the surrounding area. According to the information received, 2 attempts of terror infiltration have been detected in the last 4 days. Already 4 days ago, the group of 6 terrorists, escaping the eye of the security forces, entered into the Indian border.
According to the information, the terrorists tried to infiltrate into the Uri sector on Tuesday night, which the army had failed to notice. As soon as the intruders came to know, the Indian soldiers started firing, so they fled. After the army stopped the firing, the place was investigated and saw that there were blood markings present.